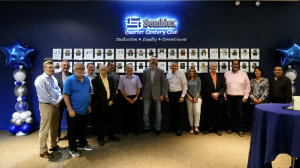 Semblex Corporation inaugurated the "Quarter Century Club" for all employees who have worked 25 years or more since the company's founding in 1968.
A reception and ceremony on May 25th inducted 43 members into the club, with the longest-serving employee of 46 years, Mr. Jim Capasso, in attendance.
Currently, two employees have reached 45+ years of service, followed by two employees at 40+ years, eight employees at 35+ years, 14 employees at 30+ years, and 17 employees at 25+ years.
A dedication wall with employee plaques was created and is featured in the William J. Blattner Training Room. Each year, a celebration ceremony will be held for employees who reach a new five-year service milestone at or above 25 years