High Speed One-Sided Threaded Fastening for Light Metal Alloys
May 3, 2019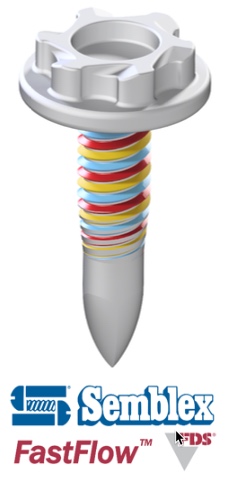 The FDS® flow drill design provides an effective one-sided joining technology for light metals that, unlike alternative technologies, does not require two-sided access/support (e.g. self-piercing rivets or frictional welding) or the creation of pre-holes and extrusions (e.g. thread rolling screws) while providing all the predictability, control and strength of a threaded joint. Despite these strong benefits and design advantages, one challenge of this technology has been overall process time. Although flow drilling cycle time is dependent on the number of material layers being joined, the layer thickness and type of material, cycle time can range from 2 to 3 seconds, until now.
The newly introduced FastFlow® FDS® from Semblex Corporation, Elmhurst Illinois, has solved the cycle time challenge. Semblex's innovative multi-helix thread design has reduced the thread forming and tightening stages by over 65%. When this innovation is coupled with an aggressive programing strategy and the FastStart™ finding feature on the head, cycle times of 0.4 to 0.6 seconds can be achieved. This provides the consumer with one-sided joining technology, the predictability and control of a threaded joint and greatly reduced cycle times.
To learn more about the FastFlow® FDS® product, the FastStart™ feature and other Fastening Solutions Semblex can provide you, contact us at sales@semblex.com or by visiting our
website at www.semblex.com.
FDS® is a registered trademark of EJOT Verbindungstechnik GmbH & Co. KG.