Semblex Received EJOT 2018 Achievement Awards
Semblex Corporation was once again chosen to receive achievement awards presented at the August 2018 EJOT licensee meeting held in Leipzig Germany. Every two years, licensees from around the globe gather together to be updated on sales objectives and attend engineering seminars and updates on new technologies being developed. Licensees are given the opportunity to meet with each other, to renew old relationships and be introduced to new companies who join this elite fastener group.
This year, Don Cunningham, Gene Simpson, Jinsoo Kim and Mark Wozniak represented Semblex and received multiple awards. Semblex continues to be leader among all licensees in selling and promoting Delta PT® and ALtracs® Plus fasteners.
As observed by EJOT management, Semblex clearly has become a leader in or successes due to our strong engineering approach in working with our customers. Beyond these two awards and coupled with our highly successful FDS® sales, we are the number 1# seller globally of EJOT products.
Don Cunningham and Gene Simpson were presented achievement awards for not only growing the licenses but also nurturing the relationship between the two companies. Stephan Weitzel V.P. of Global Licensing Management and New Business Development was also presented a lifetime achievement award by EJOT management.
Don Cunningham, Stephan Weitzel, and Gene Simpson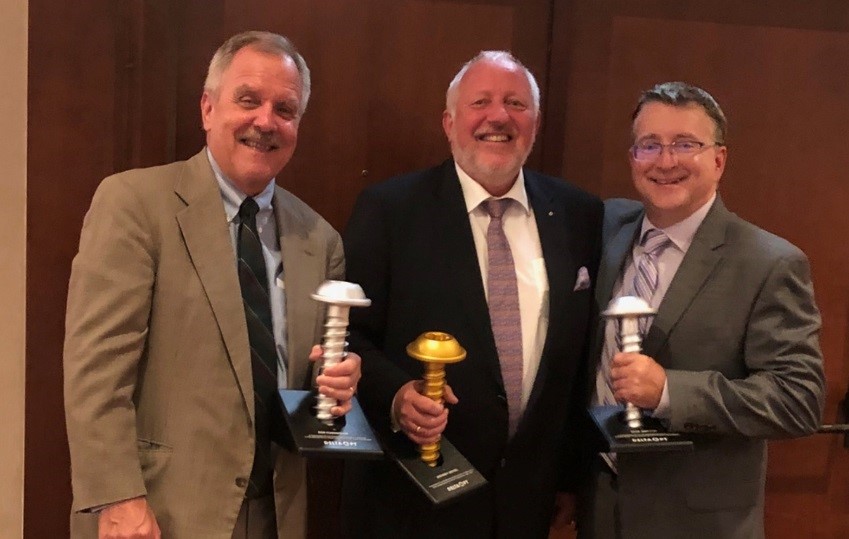 Mark Wozniak